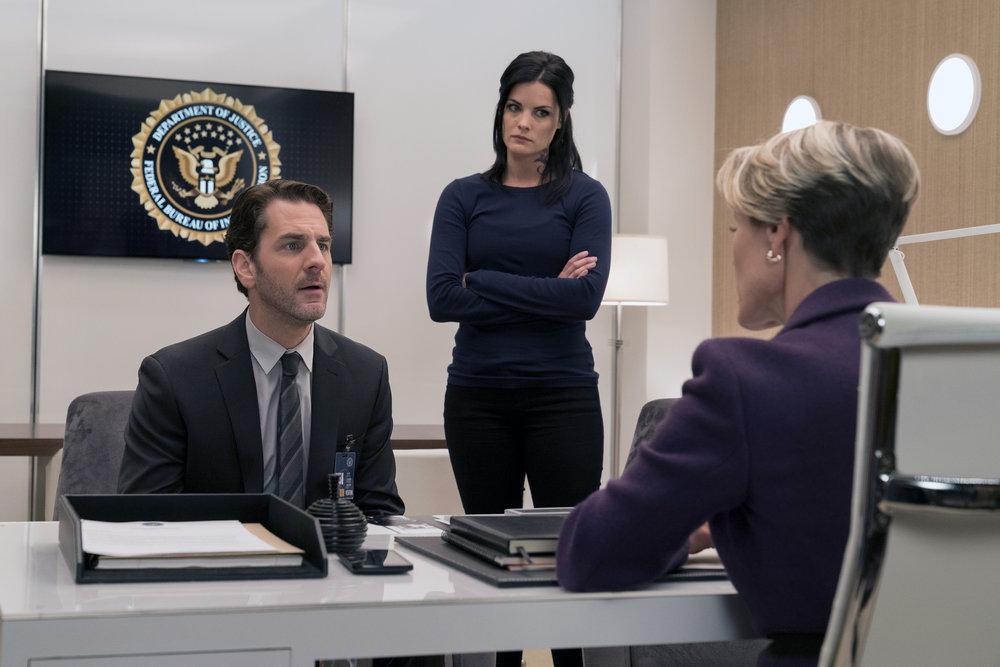 (Courtesy of David Giesbrecht/NBC/Warner Bros)
Villain Media has an exclusive sneak peek from the all-new episode, This Profound Legacy, of the action-packed Blindspot Season 3 drama on NBC. Back from the Thanksgiving break, are Jane Doe (Jaimie Alexander) and Kurt Weller (Sullivan Stapleton) ready to face another shocking revelation from their secret past lives?
As we previously mentioned, the third season of Blindspot follows Jane Doe (Alexander), who has been mysteriously covered with bioluminescent tattoos. Jane's only clues, her guide to the truth, are all over her tattooed body. With the help of her husband, Kurt Weller (Stapleton), and the FBI's Critical Incident Response Group, Jane has to figure what these mysterious tattoos mean before a major disaster occurs.
[If you're not caught up, watch the previous episodes on the NBC app or catch up with our recent recaps! SPOILERS AHEAD!!] Here are 5 reasons why we're excited to watch the fifth episode from the third season of Blindspot:
5) Why Is Her Legacy So "Profound?"

Check out the must-see clip from tonight's all-new Blindspot! In the fifth episode, airing December 1st, entitled This Profound Legacy, Jane (Alexander) is now struggling to cope with a dark secret from her past. Meanwhile, the team races against the clock to prevent an international crisis. Will Jane be able to jump back into the game and help her team in time?
4) It's Tasha Vs. Reade!!
In the  jaw-dropping cliffhanger of Gunplay Ricochet, Tasha (Audrey Esparza) caught Edgar Reade (Rob Brown) in a major lie. Does Reade's new buddy, Assistant Secretary West, have something to do with Stuart's murder? Reade has some explaining to do, that's for sure!
3) Where's The Baby?
Not only will This Profound Legacy focus on the mistrust between these two teammates, Jane will also have to deal with shocking news she received. Does Jane have a child that she didn't know about? Could those medical documents have been forged?
2) Gamut Means Scope! As In Epic!
In an interview with Entertainment Weekly, showrunner/creator Martin Gero revealed how Jane will take the baby news, "She's going to run through the whole gamut of emotions that you can imagine having to deal with information like that. What she decides to do with that information is not as cut-and-dry as you would imagine."
1) Does Roman Know?

The bigger question on our mind is, does or doesn't Roman know he is somebody's uncle? You can tell right, we're so excited to see this episode!
Season 3 of Blindspot airs Fridays at 8pm On NBC.
– By Jorge Solis