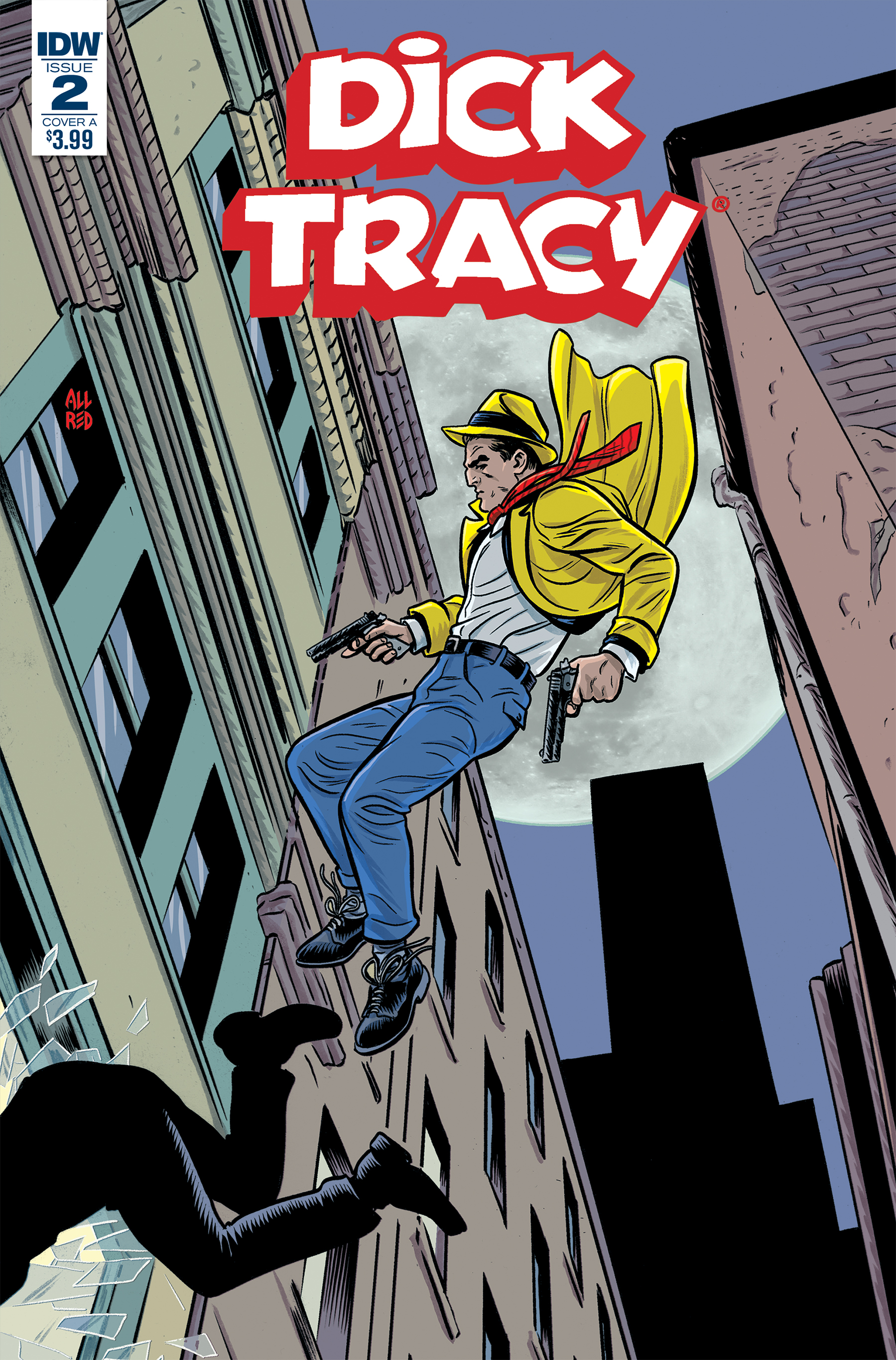 (Courtesy of IDW Publishing)
With so much pulp and grittiness smashing through the page, Dick Tracy: Dead or Alive #2 (IDW Publishing) satisfyingly holds up as neo-noir with attitude. The most iconic comic-strip heroes of all time makes his return in an eye-popping reboot!
Dick Tracy begins the herculean task of ridding the city of its crooked cops and bizarre mobsters, but has he bitten off more than he can chew this time?
Here are 5 reasons why you should get Dick Tracy: Dead or Alive #2:
5) What Happened Before!

As we previously mentioned, Dick Tracy made the biggest collar of his career. Unfortunately, being a good cop cost him his job. Now, the honest cop has packed his bags to make a new life or himself by "the city by the lake."
4) The Writing!
With Michael Allred and Lee Allred on writing duties, Dick Tracy finds himself battling against the mob bosses and the crooked cops. As the one good cop, Tracy is trying to make a change within the system, without compromising his values. Letterer Shawn Lee captures the snappy dialogue with different fonts and styles.
3) The Artwork!
The pencils by Rich Tommaso add the little details to the faces, like "Shark" Moran. The inks from Mike Allred add the wrinkles and lines to the expressions. The crime boss, Yesterday Knewes, looks like a cross between a mummy and a zombie.
2) The Colors!
Colorist Laura Allred simply does wonders with her vivid palette. Through the use of primary tones, notice how the wardrobe stands out in every panel. The yellow tones of Tracy's trench coat are so striking, especially when he is surrounded by officers in blue uniform.
1) A Great Read!
FLAT TOP! pic.twitter.com/dOFnu0QUeJ

— richtommaso (@richtommaso) November 7, 2018
Moving at breakneck speed, Dick Tracy: Dead or Alive #2 is a perfect blend of crime and police procedural. For new readers who have never heard of Dick Tracy, this is the perfect place to start.
Rating:

4 out of 4 emojis
Dick Tracy: Dead or Alive #2 arrives in stores on November 21, 2018.